64719 Bio-Mex by Wimex Eco-Friendly Biodegradable Universal Detergent Paste
64719 Bio-Mex by Wimex Eco-Friendly Biodegradable Universal Detergent
$21.00
The Bio-mex cleanser is an eco-friendly, universal detergent for cleaning & shining that comes with a uniquely-designed applicator stored conveniently in the lid. Bio-mex is formulated without harmful chemicals, from non-toxic, 100% biodegradable ingredients.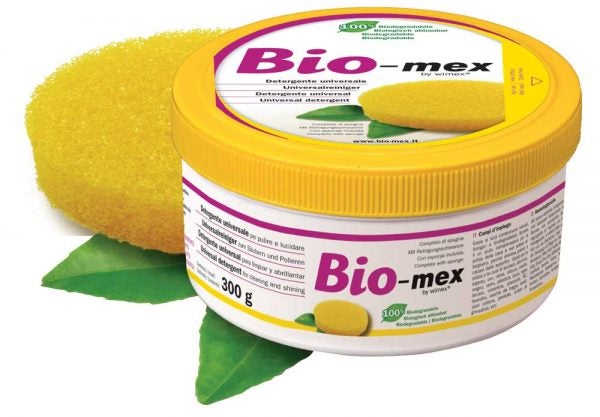 Like the Ultimate scrubEAZE, Bio-mex is safe to use in your kitchen and bathroom
on appliances
stove tops
sinks
countertops – including marble, tile and glass surfaces.
Bio-mex is tough on grease & lime scale and soap scum and is great for getting rid of hard water deposits and rust.
Use Bio-mex outdoors as well
on your vehicle chrome
wheels & rims
patio furniture – making them sparkle like new
it also does wonders for your running shoes!
Biodegradable, No Preservatives, No Solvents, No Dyes, Will Not Scratch, Eco-Friendly, Sustainable
Application:  Thanks to its natural, biological and biodegradable components, Bio-Mex is an indispensable aid for cleaning the home and for use in the hotel industry, dissolving grease and lime from surfaces. Ideal for cleaning and care of steel, aluminum, silver, gold, copper, brass, enamel, tin, glass, smooth plastic, lacquered wood, ceramics, floor tiles, toilets, sinks, bathtubs, cooking surfaces, pans and even gym shoes!
Check out this great video on what Bio-Mex can do for you!  https://youtu.be/pQl5KvsqaAE